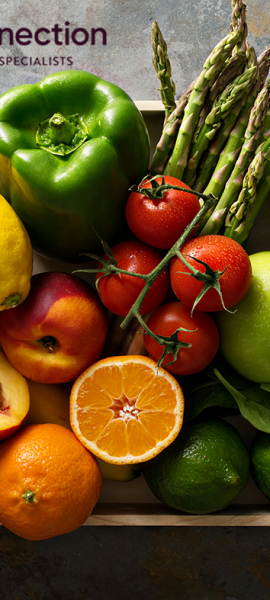 Fresh new partnership between Foodstuffs North Island & Fresh Connection
Foodstuffs North Island today announced it has partnered with Fresh Connection to establish a market leading produce delivery offering, unlocking fresh produce for their foodservice wholesale customers.
Fresh Connection will be the key fresh produce distributor for Foodstuffs North Island's wholesale brand Gilmours, bringing their passion and expertise in all things produce to the table.
Fresh Connection bring paddock and plate even closer together with over 25 years' experience in the market, specialising in connecting the foodservice industry and quality fresh produce straight from the growers. Fresh Connection have grown to be the largest privately-owned national produce wholesaler specialising in the foodservice industry in New Zealand. 
This partnership means over the coming months Foodstuffs wholesale foodservice customers will see a full range of quality fresh produce including convenient, pre-prepared 'no knife' kitchen solutions that are peeled, sliced and diced, including premixed salads. Ideal for busy restaurants, cafes, rest homes and caterers, reducing prep times to deliver fresh and delicious meals. We know time is money in busy kitchens so our foodservice customers will also benefit from the convenience of being able to order their whole of plate foodservice needs in one place.
Foodstuffs is very excited to be commencing the journey with Fresh Connection that will see a wide variety of quality fresh and prepared produce for the Foodservice market available in all Gilmours Cash 'n Carry stores over the next few months and available to our Foodstuffs Wholesale and Gilmours Online customers towards the middle of this year.
"Our partnership with Fresh Connection is tightly aligned to our strategy to be New Zealand's preferred foodservice partner, that always has what our customers need including the best in fresh. Fresh Connection has a great reputation in the market, so we are also looking to unlock opportunities across the wider Foodstuffs business as well– exciting times ahead."
Gemma McBeath – GM Wholesale and Customer Service Foodstuffs North Island
"Our partnership with Foodstuffs brings together two successful New Zealand owned businesses to offer an exciting "one stop shop" for foodservice customers while retaining the passion, enthusiasm and pride of our individual areas of expertise. Customers will receive the advantage of a single ordering portal, accounts and all the benefits of being a Foodstuffs customer while receiving passionate service and supply from Fresh Connection."
Stephen Dench – CEO Fresh Connection
About Fresh Connection
In a world of 'be all, do all' generalists, Fresh Connection specialise in bringing together the foodservice industry and quality fresh produce straight from the growers and are well known for our value-add foods. We're 'the little big guys' - large enough to reliably supply and distribute across New Zealand, yet small enough to be flexible and nimble in delivering 'hands on' service and innovative custom solutions.
Over the last 25+ years, we've grown into the largest privately-owned national produce wholesaler specialising in the foodservice industry throughout New Zealand.
At Fresh Connection we know freshness and quality because we're also growers ourselves, with 70 productive acres right outside our processing plant. Being growers as well as manufacturers and suppliers, our vertically integrated business model offers certainty and continuity of supply. Our seamless distribution and logistics ensure orders are received on time and in excellent condition.