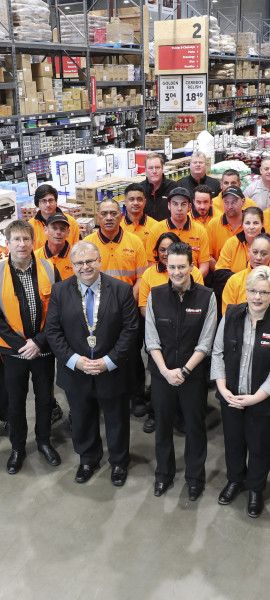 New store for Gilmours Wellington
Gilmours Wellington opened on the 16th October at its new location at 33 Bouverie Street, Petone with an official ribbon cutting ceremony on Tuesday.

Work began on the fit-out of the 4750 sqm building in June, and the new opening also launches our new Gilmours branding.

"The new site is significantly bigger than the old, with large walk in meat, seafood, dairy & produce rooms that are a significant step up for the brand," says Lindsay Rowles, GM Property Development.

The chilled and frozen facility in the new Petone store was designed after the team took part in a research trip last year in the United States.

The new store is also in a much improved location for customers; situated in a light industrial area handy to State Highway 2.

"In this new location we're able to offer our Gilmours customers a larger, more modern store and more parking," says Lindsay.

The old store in McCormack Place closed on October 12, and all 71 team members have moved to the new location with Owner Operator Matt Humphrey.

Matt and his wife Jo have owned the store since May 2016, and they have two children.