Meet the Judges and go behind the scenes
The judges have swirled, sniffed, sipped and tasted and then debated to bring you the 'Gilmours Top 20 Wine Selection for 2021'
A two-day judging event took place in late March 2021, and the Top 20 winning wines were awarded gold medals.
Emma Jenkins MW chaired the event with an independent panel of wine judges experienced in International Wine. This was made up of Sam Kim (Wine Orbit) and Simon Nunns (Consulting Winemaker) and was run by Chief Steward Jo Gear.
This year 188 wines entered the inaugural competition, made up of 25 wine varieties from 8 Countries. All wines had to wholesale for under $25 wholesale a bottle.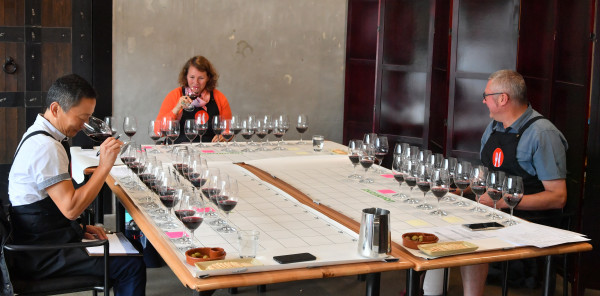 Welcome note from the Chair of Judges

It was my great pleasure to Chair the inaugural Gilmours International Wine Competition. The intent of Gilmours in setting up the Competition was to find the very best affordable international wines to provide added value to Foodservice members by giving them confidence and information about international wines, and to help them to plan their wine lists. To this end, our task as judges was to select the Top 20 wines from the 188 wines entered, which hailed from eight different countries. I am pleased to report than wines from six of these countries made it into our Top 20 selection.
Our task as judges was a relatively simple one – to whittle the wines down to our final selection – but that did not necessarily mean it was an easy one. I was fortunate to have as my fellow judges, Simon Nunns, winemaker and consultant, and Sam Kim of wine review service Wine Orbit. Both Simon and Sam have extensive experience as Senior Judges, Panel Chairs and Show Chairs, as well as an abiding love of and experience in wines from all four corners of the globe (Simon is even responsible for making New Zealand's first ever wines from Arneis, Gruner Veltliner, Marsanne, Fiano, Vermentino, Albarino and Lagrein!).
Thanks to seamless organization by Jo Gear, who as chief steward organizes the procurement of wines, set up and management of the judging process, as well as the faultless stewarding over the judging days by the Gilmours team, we could focus on the task at hand with no distractions. We spent two days tasting our way through the wines, in the first instance tasting the entire 188 in a series of short flights to produce a shortlist of around 50 wines, and from there, we retasted the shortlist and decided the eventual Top 20. The top wines were chosen first and foremost for their quality – we looked for balance and harmony of fruit, acidity, tannins/phenolics and alcohol, whether the wine showed good typicity for the variety and origin, and above all, did it taste delicious – would someone enjoy drinking this wine?
All wines were tasted blind, in that we had no idea of the labels entered but we did have information on variety and/or origin for context. We are very pleased with the eventual selection and its range of varieties and styles, and we hope that consumers will get a lot of enjoyment from exploring these wines.
One of the things I love most about wine is the way it combines history, culture, and almost infinite variations of character and deliciousness, all in one glass. Our local New Zealand wines deliver this to us in a largely familiar way so the opportunity to broaden one's vinous horizons is not to be missed. I thank Gilmours for the opportunity to Chair the show and to help share these new horizons with their members and consumers.
Emma Jenkins MW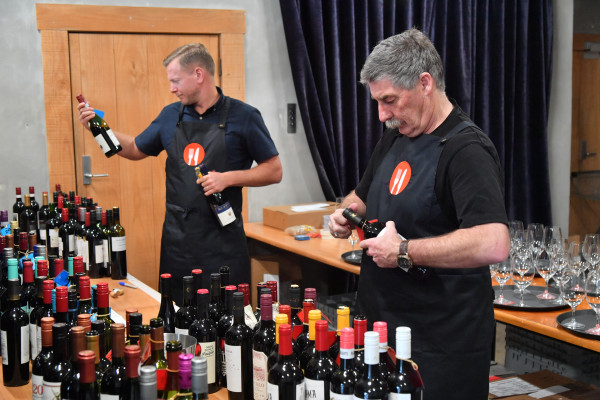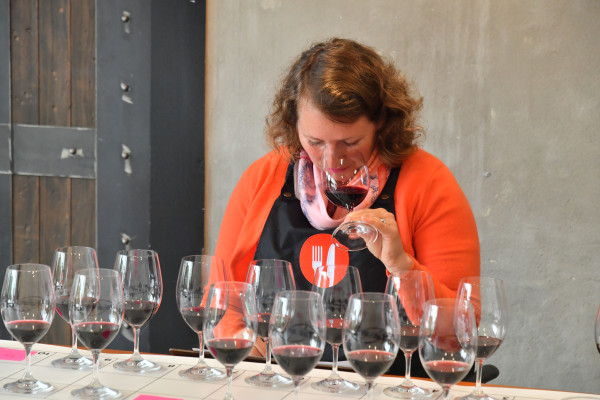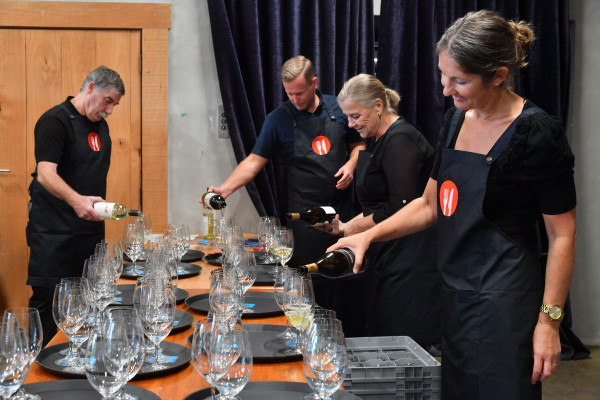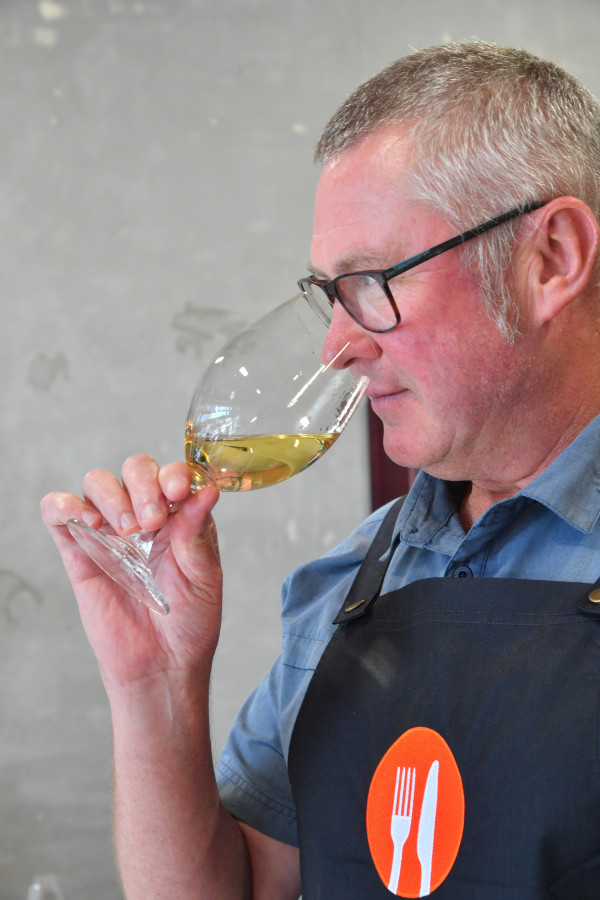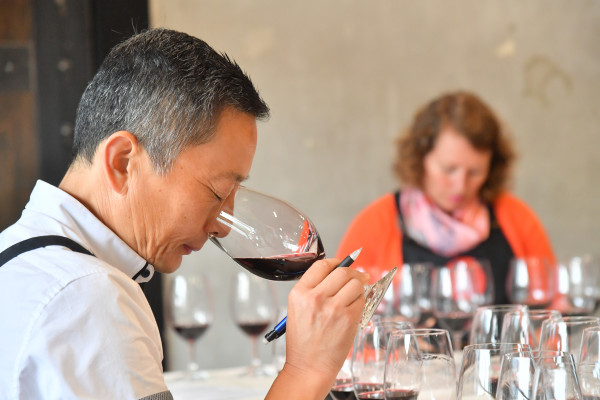 Emma Jenkins MW Chair of Judges
Emma Jenkins MW tastes, writes, judges, teaches, consults and thinks about wine, both in New Zealand and abroad. When not doing this, she spends her time chasing children and animals around an overgrown garden. She also used to travel a lot. Emma holds a diploma in winemaking and viticulture, and in 2011 became New Zealand's ninth Master of Wine. Emma is co-editor of The Independent Wine Monthly alongside Jane Skilton MW and writes on a freelance basis for a number of trade and general publications. She also provides consultancy services to a range of industry and corporate entities.
Sam Kim
Sam has been involved in the New Zealand hospitality and wine industry for over 30 years. He has more than 20 years' experience judging for national and global wine competitions and magazines including the Air New Zealand Wine Awards, New Zealand International Wine Show, the Royal Easter Show Wine Awards, Decanter Asia Wine Awards, the New Zealand Aromatic Wine Competition, Spiegelau International Wine Competition, Marlborough Wine Show and Cuisine magazine. He publishes his own web-based wine magazine wineorbit.co.nz, which features reviews of both New Zealand and international wines
Simon Nunns
Consulting Winemaker Simon Nunns has been a senior judge in all the major New Zealand wine shows and is a highly sought-after educator and speaker. Simon also features regularly as a judging panelist for Cuisine magazine and has a passion for alternative grape varieties. He has worked vintages in both the United States and France, in the regions of Oregon, Bordeaux and Burgundy, and was the head winemaker at Coopers Creek Vineyard in Auckland for over 20 years. Simon was awarded the inaugural Jason Winter Memorial Prize for academic achievement while completing a Postgraduate Diploma in Viticulture and Oenology from Lincoln University.
Jo Gear Chief Steward
Winemaker, wine judge, wineshow organiser and owner of small but well-loved One Block Wines, Jo is passionate about celebrating NZ wines and the people that bring them to life.