Here for NZ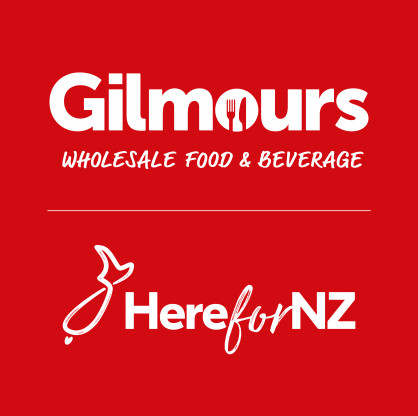 Our promises
At Gilmours, being Here for NZ means that we're committed to supporting New Zealand businesses to grow New Zealand business.
We're 100% New Zealand owned and operated, and we've been operating for almost 100 years. We support the community so together we can grow our local economy.
Our owners are embedded in their community and are focused on helping our members be the best they can be every day for their customers. Our owners understand the needs and challenges everyone is facing, and value building and recognising relationships with their members, their businesses and their customers.
To make an impact through our social responsibility, we promise to:
care about food

-

we'll continue to grow our range of fresh products

for our members and inspire and educate our members on health

y

affordable options for their customers

care about sustainability

– we'll continue to give members choices of sustainable packaging,

reduce our paper,

improve

and build our digital roadmap

and optimise in-store waste so

lutions

care about people & careers

– we'll continue to look after our teams and offer opportunities to upskill

and grow
A few highlights from the help and support Gilmours stores gave the community during COVID-19
Gilmours Mount Roskill in a joint effort with the Government of Tokelau supplied a food security package to Tokelau – a vulnerable and isolated island near Samoa, as their usual source of supply was cut off due to COVID-19 restrictions. This package of four shipping containers ensured its 1,400 residents had the key essentials such as long-life milk, rice, pasta, canned goods, and cleaning products to feed them through the challenging time.
Gilmours Hamilton worked with the K'aute Pasifika Trust who provide support packages for vulnerable families in Hamilton. They donated essential goods like butter, sugar, sanitary needs, and sanitiser. They were able to help over 1,300 local families, making a significant impact on the local community during the lockdown period.
Gilmours Wellington proudly gave food and logistical support to Kapura to help the Ministry of Social Development provide up to 7,000 meals a day to the vulnerable in Wellington, along with loaning a Gilmours truck and providing a place to store products in their freezer and chiller before it was distributed.
Other initiatives
Looking after New Zealand is becoming so important, and just like you, we're committed to making changes and improving the way we look after our environment. This means taking on responsibility for the waste we create and supporting our stores with new ways of making a difference.
Crate trials to reduce our cardboard waste
We know that using cardboard boxes has a significant impact on the environment, so from October 2020, Gilmours Mt Roskill are trialling a new way of delivering products to their members by delivering orders in reusable plastic crates. This is one way we can start to reduce cardboard waste by using a more sustainable product. Gilmours Mt Roskill are asking their members to unpack their order, keep the crates and they will be picked up the next time they receive a delivery.
Waste management programme
Gilmours is committed to waste minimisation and has been actively trialing several processes in stores to reduce, reuse, and recycle. To do this, we have reviewed our packaging options, recycling has reduced the waste to landfill significantly and damaged products are being donated. Initiatives are ongoing to further reduce the amount we send to landfill by 90% of preprogramme amounts.