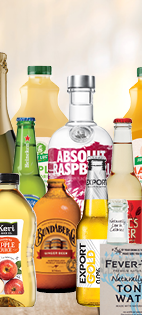 Beverages
Spirits & RTDs
By offering spirits and RTDs to our licenced premises customers, Gilmours offers you a complete liquor solution, all in one place. Big brands, premium brands and the most popular and trending spirit brands.
Wine
Red, white, rosé? Sparkling or still? Case loads or single bottles? The options are almost limitless, and Gilmours meets them head-on with a huge range of local and imported product across a range of price points.
Beer & Cider
There are so many new beer and cider options on the market now it can be hard to keep up. But this variety is a good thing!
Find a great range of beer, cider, and more here.
Disclaimer: a valid Liquor Licence associated to your Gilmours membership is a requirement for any liquor purchases.